Case Study: Mobile Advertising - SKY Waikiki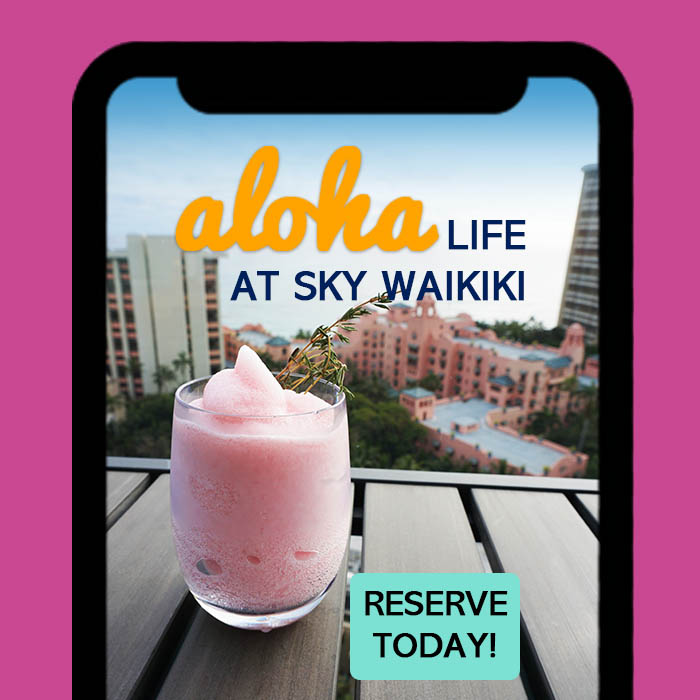 Background
SKY Waikiki (SKY) is a rooftop bar and restaurant located at the epicenter of Pacific tourism – Waikiki, Hawaii. While SKY offers unbeatable open-air views of the beach and city, it is located 19 stories above highly trafficked Kalakaua Avenue; if people don't look up, they wouldn't know SKY is there.
Team Vibe created and managed SKY Waikiki's mobile advertising campaign from its opening in 2015 until the restaurant changed ownership in 2020. Along with the company's rebrand in November 2019, Vibe relaunched SKY's mobile ads to focus on its most profitable segment – its bar operation.
Strategy
Team Vibe created eye-catching mobile display ads featuring colorful cocktails and the restaurant's views to appeal to SKY's target demographic of tourists aged 25-45 walking on the streets of Waikiki.
Goal
Increase mobile impressions in Waikiki to create top-of-mind brand awareness for potential customers deciding, in real time, where to eat and drink on their vacation.
Duration
November 2019 - January 2020
Content
Eye-catching mobile display ads featuring refreshing cocktails and views

Target
Tourists aged 25-45
Placement
Mobile phones in Waikiki
Budget
$10/day
Results
SKY's mobile campaign received an average click through rate (CTR) of 0.47% at an average cost per click (CPC) of $0.35. This is compared to an industry average CTR of 0.43% and CPC of $0.60 (using the Dining & Nightlife industry average in Wordstream's 2019 Report).